Thursday, May 8, 2008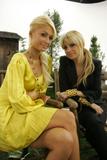 Nicole Richie misses going out and partying since becoming a mother. The 26-year-old socialite who gave birth to daughter Harlow in January is struggling to deal with her new responsibilities as a mother.
A source told America's Star magazine, "Nicole is torn between being a mommy and being a party girl. She wants to go out and have fun, but when she does, she's like, 'Uh-oh, Harlow needs me.' "She really misses her carefree life. Before Harlow came along, Nicole never had to worry about anything. All she did was party with her friends and go shopping. Now she's totally overwhelmed by her new responsibility, even though she adores her daughter. Nicole still can't figure out if she's happier when she's home with the baby or hitting the town with her friends!"
Nicole previously said having a child with her Good Charlotte rocker fiance Joel Madden had helped her to "move on" from her party girl reputation.
Note - These high resolution pictures are of 3000 pixel resolution. View them in their original resolution to enjoy them fully and observe the minutest details on your favorite celebrities.
Source - World Wide Web