Thursday, May 8, 2008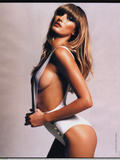 Gisele Bundchen's
lover fantasises about her dressing up as a superhero. The Brazilian supermodel's American football star boyfriend Tom Brady confessed that he is keen to see her don Wonder Woman's famous hot pants. He said: "I want her to wear the Wonder Woman outfit."
Gisele revealed she would consider wearing the gold-starred pants and red corset, but worries it may expose too much of her body. She laughed: "I would like to wear a Wonder Woman costume, but it would probably be too revealing."
Gisele isn't the only star to admit she would enjoy wearing a superhero outfit.
Kate Beckinsale
has previously revealed she would love to don the Wonder Woman costume, while Halle Berry kept her sexy outfit from the X-Men movies and enjoys wearing it in the bedroom with lover Gabriel Aubry.
Note - These high resolution pictures are of 3000 pixel resolution. View them in their original resolution to enjoy them fully and observe the minutest details on your favorite celebrities.
Source - World Wide Web