Monday, May 12, 2008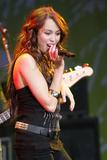 Snaps of Miley Cyrus performing at 102.7 KIIS-FM's Wango Tango Concert. KIIS-FM is a Los Angeles music radio station.
The 16-year-old American pop singer was involved in a controversy recently for her naked photographs. Miley has also lended her voice for the animated movie
"Bolt"
to be released in November 2008. The teen actress also plays the role of "Hannah Montana" on the popular TV series
"Hannah Monatana"
. Miley will soon start shooting for
"The Hannah Montana Movie"
to be released in 2009.
Click Here
to check out Miley Cyrus' official website.
Click Here
to check out KIIS-FM's official website for updates in their Wango Tango concert.
Note - These high resolution pictures are of 3000 pixel resolution. View them in their original resolution to enjoy them fully and observe the minutest details on your favorite celebrities.
Source - Hotcelebshome