Sunday, May 11, 2008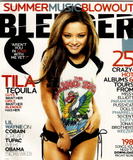 Latest Scans from Tila 'Tequila' Nguyen's photoshoot for "Blender" Magazine's June 2008 edition.
Tila Nguyen who is better known by her stage name Tila 'Tequila', is an American model, entertainer, and singer. Tila is known for her appearances in "Stuff", "Maxim", "Time", "Penthouse" & her role as host of the Fuse TV show "Pants-Off Dance-Off". Tila is also known for her position as the most popular artist on MySpace (according to page views) as of April 2006.
Her MTV show "A Shot At Love With Tila Tequila" premiered on October 9, 2007. Tila has also done a short cameo in the movie
"I Now Pronounce You Chuck & Larry"
.
Click Here
to check out Tila 'Tequila's' MySpace page.
Click Here
to check out Tila's official website.
Note - These high resolution pictures are of 3000 pixel resolution. View them in their original resolution to enjoy them fully and observe the minutest details on your favorite celebrities.
Source - Hotcelebshome