Monday, May 12, 2008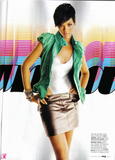 Latest scans from
Riahanna's
photoshoot for Elle magazine's June 2008 edition.
The Barbadian singer's original name is Robyn Rihanna Fenty.
Rihanna
will soon start shooting for her first Hollywood movie
"Mama Black Widow"
. The movie is about a black family's migration from the southern Mississippi fields of the segregated south to the ghettoized black underworld of Chicago during the 1930's. Rihanna will be starring alongside actors like Mos Def, Kerry Washington & Anthony Anderson.
Click Here
to check out Rihanna's MySpace page.
Note - These high resolution pics are of 3000 pixel resolution. View them in their original resolution to enjoy them fully and observe the minutest details on your favourite celebrities.
Image Source - Hotcelebshome