Saturday, May 10, 2008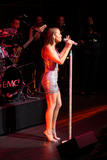 Mariah Carey
performs at Time Magazine 100 Most Influential People Event.
The American pop singer recently confirmed her marriage with beau Nick Cannon. They got married at Mariah's Bahamian estate on April 30 after a courtship that began in late March. According to Nick, they clicked instantly after Mariah cast him as a lover in the video for her new single "Bye Bye".
Note - These high resolution pictures are of 3000 pixel resolution. View them in their original resolution to enjoy them fully and observe the minutest details on your favorite celebrities.
Source - Hotcelebshome