Tuesday, May 13, 2008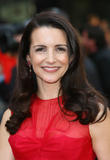 Kristin Davis says she doesn't want to get married. The "Sex and the City" actress who is currently single, is in no rush to find a partner because she believes that marriage is an
'antiquated'
institution. She said, "I feel like it's important to say that not everyone has to get married. Everyone thinks it's very important that we have to be paired off all in twos. It's like this crazy antiquated 1950s thing and that's not the way life is".
Kristin also admits that she is nothing like her "Sex and the City" character Charlotte, who is always desperate to settle down and eventually marries divorce lawyer Harry Goldenblatt in the show. She said, "My life is very, very different from Charlotte's. I'm much more independent".
The 43-year-old actress also revealed that she is attracted to creative men. She revealed, "I think I'm drawn to someone who's artistic and creative".
Source - World Wide Web