Wednesday, May 14, 2008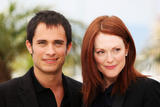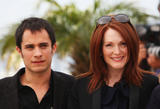 Julianne Moore at the "Blindness" photocall during the 61st International Cannes Film Festival in Cannes, France.
4 time Oscar nominee Julianne has finished shooting for her movie
"Blindness"
which will release on 19th September 2008.
"Blindness" is based on a novel by Nobel Prize winner Jose Saramago. Moore plays the role of a doctor's wife who becomes the only person with the ability to see in a town where everyone is struck with a mysterious case of sudden blindness. She feigns illness in order to take care of her husband as her surrounding community breaks down into chaos and disorder.
Semiwalls Snippet - In October 2007, Julianne Moore published her first children's picture book, entitled Freckleface Strawberry.
Note - These high resolution pictures are of 3000 pixel resolution. View them in their original resolution to enjoy them fully and observe the minutest details on your favorite celebrities.
Image Source - Hotcelebshome